Our company is a MSZ EN 9001:2001 ( International Standards Organization is 9001:2000 ) he got qualification .
Since 2006 our company system of a qualify direction the certify 9001:2001 have fit that MSZ EN ( International Standards Organization is 9001:2000 ) to requirements of norm .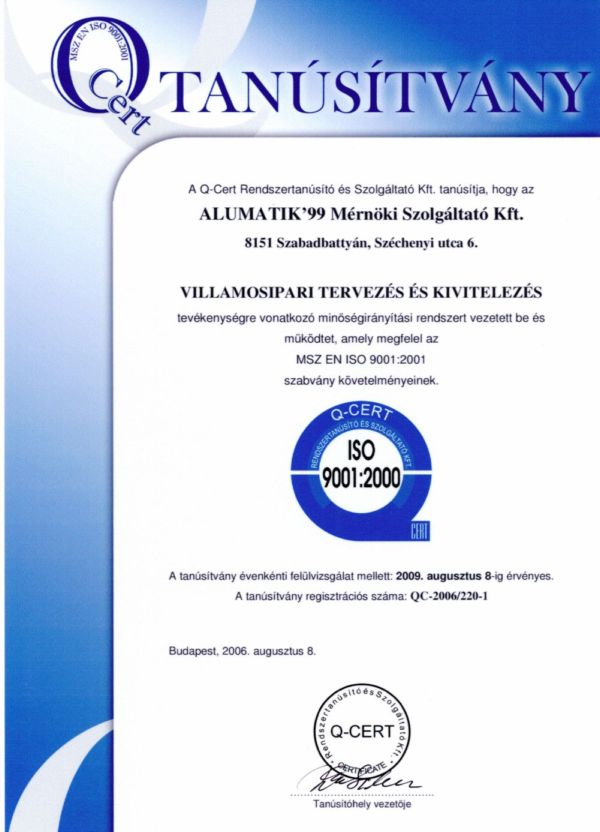 The Alumatik 99' Ltd. . is a Qualification :
To his commitment concerning the leading quality that adjusting for MSZ EN International Standards Organization 9001:2001 norms with building in of a qualifying method ,
with his leading in and ongoing development he is wishing stress to give .
Qualify to quickly changing social-operational neighbourhood and partners' prevailing pretensions
in light of aspiration after efficiency according to we are defining it , because we know , that the quality is no accident its random work of art , but into system he made reservations wilful and objective oriented , outcome of ongoing job and development .
Management of the Kft . makes sure , so that everything employee and subcontractor to recognize it the company politics of qualification ,
goal points , building up of the qualifying method system foundational , and a operational orders , and he expects , so that they employ that as daily practice .
The administration of qualify system in actuation across conducting of the Kft . wishes to maintain telling and effective carrying out of the strategic goal points , to its customers satisfaction , as well as to this jointly achievement of the employees' individual goal points .
We are controling so our activity and we are finishing , that the social expectations for incarnating laws ,
let us fulfil for legal instruments , miscellaneous decrees , a in regard to is the man-made environment onto his defense and the safety .
Székesfehérvár, szeptember 15. 2003

Lajos Fehér
executive manager